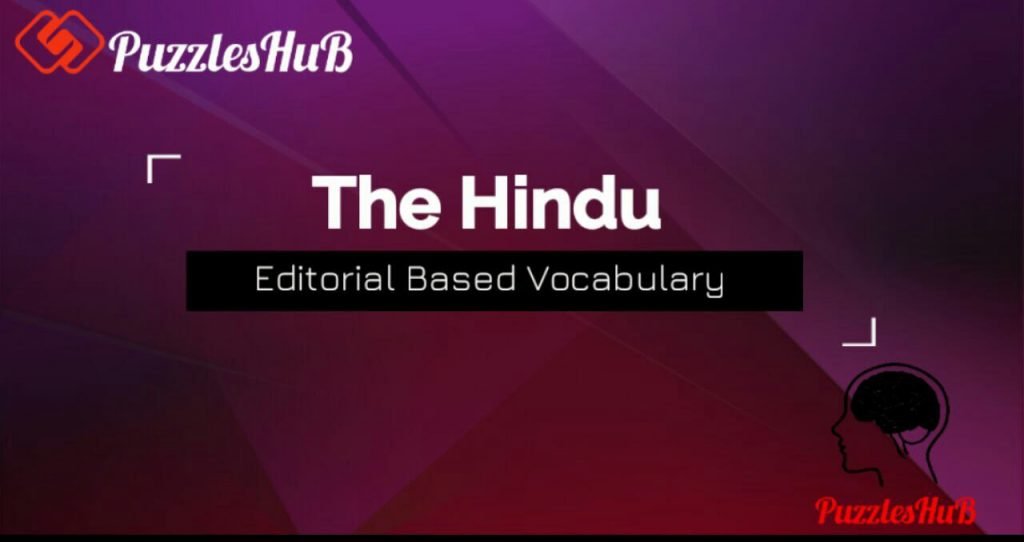 Here You Will Get Important The Hindu Vocab Lists For Exams Like IBPS PO, Clerk, IBPS RRB, CGL, CHSL, State Level tests, Other Exams and so forth. PuzzlesHuB provides you 10 new vocab words daily From The Hindu Editorial on the daily regular schedule which will profit you in the upcoming assessments. The Hindu Editorial vocab list is a booster and important part of learning and understanding the English language. It will sure improve your reading skills and marks in exams like SSC / Bank Po / Bank Clerk / SBI JA / SBI PO other Competitive Exams. We collect daily top 10 vocabulary words used regularly from the hindu newspaper.
? The Hindu Editorial Vocabulary 10 April 2020 ?
1. FARCE (NOUN): (प्रहसन): absurdity
Synonyms: mockery, a travesty
Antonyms: respect, praise
Example Sentence:
The debate turned into a drunken farce.
2. INVEIGLING (ADJECTIVE): Alluring
Synonyms: attracting, captivating
Antonyms: repulsive, repellent
Example Sentence:
The picture was quite inveigling.
3. SINISTER (ADJECTIVE): Nasty
Synonyms: ominous, perverse
Antonyms: auspicious, benevolent
Example Sentence:
It was a pretty sinister comment that you made so far.
4. MULISHNESS (NOUN): Doggedness
Synonyms: obstinacy, bullheadedness
Antonyms: irresolution, dubiety
Example Sentence:
He is buying everything by showing his heights of mulishness.
5. PULSATE (VERB): Quaver
Synonyms: tremble, quiver
Antonyms: steady, be still
Example Sentence:
The meek bird was pulsating in the refractory wind.
6. DOLEFUL (ADJECTIVE): Mournful
Synonyms: woeful, sorrowful
Antonyms: elated, cheerful
Example Sentence:
It must be a doleful morning for her and her family.
7. CEREBRATION (NOUN): Thought
Synonyms: cogitation, contemplation
Antonyms: avoidance, ignorance
Example Sentence: It is a nice cerebration.
8. RANTING (ADJECTIVE): Raving
Synonyms: angry, raging
Antonyms: serene, placid
Example Sentence:
Mukesh is a ranting man.
9. HOARSE (ADJECTIVE): Harsh
Synonyms: rough, gruff
Antonyms: polite, soft
Example Sentence:
One should not be hoarse towards their workers.
10. EMPIRICAL (ADJECTIVE): seen
Synonyms: actual, real
Antonyms: false, unreal
Example Sentence:
They provided considerable empirical evidence to support their argument.
We are sorry that this post was not useful for you!
Let us improve this post!
Tell us how we can improve this post?