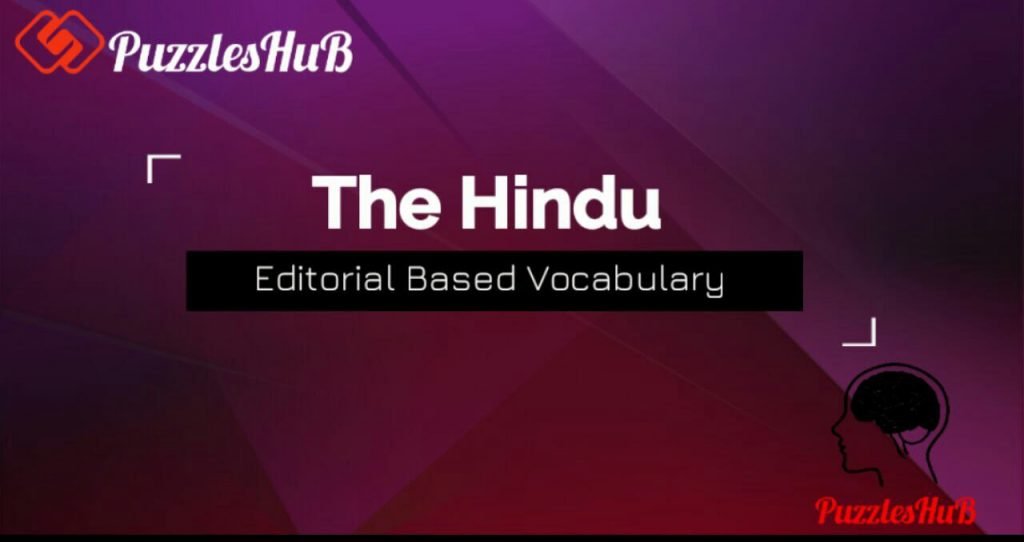 Here You Will Get Important The Hindu Vocab Lists For Exams Like IBPS PO, Clerk, IBPS RRB, CGL, CHSL, State Level tests, Other Exams and so forth. PuzzlesHuB provides you 10 new vocab words daily From The Hindu Editorial on the daily regular schedule which will profit you in the upcoming assessments. The Hindu Editorial vocab list is a booster and important part of learning and understanding the English language. It will sure improve your reading skills and marks in exams like SSC / Bank Po / Bank Clerk / SBI JA / SBI PO other Competitive Exams. We collect daily top 10 vocabulary words used regularly from the hindu newspaper.
? The Hindu Editorial Vocabulary 29 April 2020 ?
TROVE (NOUN):(जमाव)
Synonyms: aggregation, agglomeration
Antonyms: subtraction, dispersal
Example: I saw the cellar contained a trove of rare wine.
TURBID (ADJECTIVE):(गंदा)
Synonyms: muddy, murky
Antonyms: clear, neat
Example: It was a turbid weather.
TWINGE (NOUN):(टीस)
Synonyms: ache, pang
Antonyms: advantage, blessing
Example: I was feeling twinge in my heels.
TAWDRY (ADJECTIVE):(घटिया)
Synonyms: cheap, sleazy
Antonyms: nice, tasteful
Example: His house was in a tawdry location.
DIRE (ADJECTIVE): (भीषण)
Synonyms: drastic, extreme
Antonyms: calm, mild
Example: The dire need is there to save water.
INCOMMODIOUS (ADJECTIVE): (असुविधाजनक)
Synonyms: uncomfortable, awkward
Antonyms: convenient, handy
Example: The incommodious mattress caused me severe back ache.
PLIGHT (NOUN): (दुविधा)
Synonyms: quandary, impasse
Antonyms: boon, blessing
Example: The international community should do more to protect the plight of these people.
8. DAFT (ADJECTIVE): (मूर्ख)
Synonyms: silly, lunatic
Antonyms: brainy, smart
Example: Your idea seems a bit daft to me.
9. EXORBITANT (ADJECTIVE): (अत्यधिक)
Synonyms: outrageous, extreme
Antonyms: inexpensive, moderate
Example: The President is right in pointing how the exorbitant cost of child care can be devastating for families.
RUPTURE (VERB): (टूटना)
Synonyms: breach, split
Antonyms: join, connect
Example: The emperor Leo, ruptured the fortress of his enemy.
We are sorry that this post was not useful for you!
Let us improve this post!
Tell us how we can improve this post?