Daily Current Affairs (31 – May – 2020)
Welcome to the May 2020 Daily Current Affairs MCQ One Liner Section of PuzzlesHuB. Current Affairs Quiz will Boost Your GA Section. Daily One Liner Current Affairs About national and international news are provided here. Read these one-liners for quick revision for those who are preparing for IBPS/SBI/Po/Clerk and other competitive exams.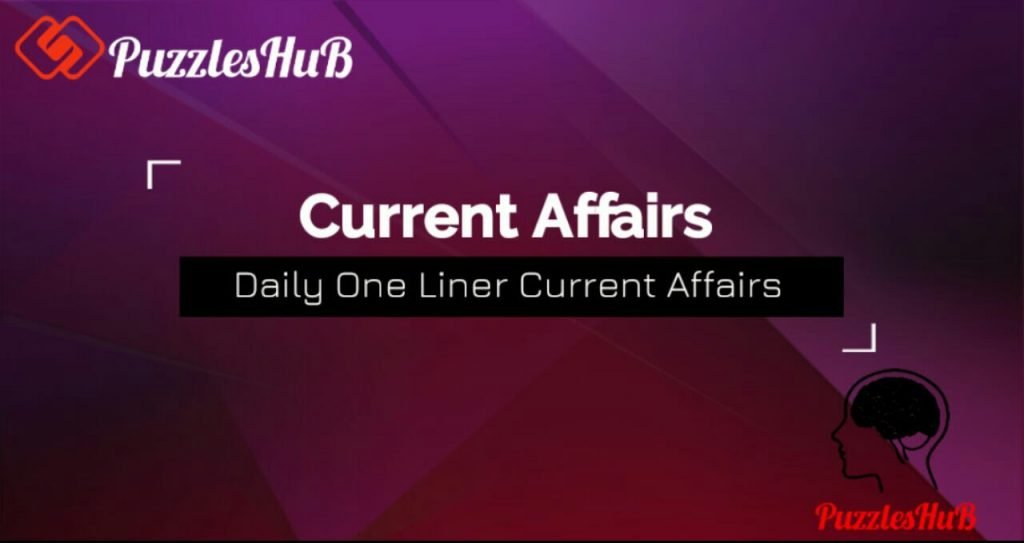 Daily CA One Liners, 31 May 2020 :
29 May: International Day of United Nations Peacekeepers
Theme 2020: "Women in Peacekeeping A Key to Peace"
29 May: World Digestive Health Day
Theme 2020: "Gut Microbiome A Global Perspective"
29 May: International Everest Day
28 May: World Menstrual Hygiene Day
Theme 2020: "Periods in Pandemic"
28 May: World Hunger Day
Thierry Delaporte appointed as new CEO and MD of Wipro
Aiman Ezzat Appointed as New CEO of Capgemini
ADB signs $177 million loans with India for state road improvements in Maharashtra
Myanmar to seek 700 million dollars IMF loan for COVID-19 spending
22nd Financial Stability and Development Council meeting chaired by Finance Minister
First of its Kind State Health Register to be launched by Karnataka Government
WHO suspended Hydroxychloroquine trials treating COVID-19
New Freshwater fish "Punitus Sanctus" found in Velankanni, Tamil Nadu
R Sreerekha to become Kerala's first woman DGP
Leo Puri to become Chairman of JP Morgan South Asia and South East, Asia
IOC appoints Narinder Batra as member of Olympic Channel Commission
Quarraisha Abdool Karim wins Christophe Merieux Prize
36th National Games postponed indefinitely due to COVID-19
First Chief Minister of Chhattisgarh Ajit Jogi passes away
CIPET renamed as Central Institute of Petrochemicals Engineering & Technology
Corona Impacts Economies: Poverty To Engulf 672 Million Children By 2020-End, Says UNICEF
FDI in India jumps 13% to record USD 49.98 bn in 2019-20
Facebook launches Collab, an app that lets you make short music videos like TIKTOK
Microsoft investing $2 billion in Reliance Jio for a 2.5% stake
Vakrangee ties up with LIC for microinsurance products
Finance Minister launches facility of Instant PAN through Aadhaar based e-KYC
Govt withdrew 7.75% Savings (Taxable) Bonds scheme due to declining interest rates
JP Morgan's Kalpana Morparia to retire & Leo Puri to take over
Zomato elevates food-delivery CEO Mohit Gupta as co-founder
Ladakh inaugurates the 1st Solar Lift Irrigation Plant of Kargil
Kochi Startup Devaditek Innovations develops decontamination device 'Lumos' to check COVID-19 spread
Western Naval Command sets up Ultraviolet sanitisation Bay at the Naval Dockyard Mumbai
Infosys ties-up with Zurich-based Avaloq for digital wealth management services
Sandip Mukund Pradhan gets two-year extension as Director-General of SAI
Annual listing fee reduced by 25% for SMEs: BSE & NSE
Uttarakhand launches Mukhyamantri Swarozgar Yojana for returnee migrants
Uttar Pradesh Govt develops 800 Km roads as Herbal roads
CM of Madhya Pradesh launches 'Rozgar Setu Yojana' for skilled workers
• भारतीय प्रतिभूति एवं विनिमय बोर्ड (सेबी) ने वित्तीय परिणामों का समय पर खुलासा नहीं करने के लिए भारतीय राष्ट्रीय राजमार्ग प्राधिकरण (एनएचएआई) पर जितने लाख रुपये का जुर्माना लगाया है- सात लाख रुपये
• सरकारी कंपनी एचआईएल लिमिटेड टिड्डियों को नियंत्रित करने के लिये हाल ही में जिस देश को 25 टन कीटनाशकों की आपूर्ति करेगी- ईरान
• जिस देश ने हाल ही में अपने पर्सपेक्टिव एविएशन कॉम्प्लेक्स फॉर लॉन्ग रेंज एविएशन (PAKDA) प्रोग्राम के तहत अपना पहला स्टेल्थ बॉम्बर विमान बनाया है- रूस
• विश्व भूख दिवस (World Hunger Day) जिस दिन मनाया जाता है-28 मई
• रेलवे ने हाल ही में एडवांस आरक्षण की अवधि 30 दिनों से बढ़ाकर जितने दिन कर दिया है-120 दिन
• हाल ही में जिस राज्य सरकार ने आठ सौ किलोमीटर सड़क को हर्बल सड़क के रूप में विकसित करेगी- उत्तर प्रदेश
• वह राज्य सरकार जिसने हाल ही में कहा कि वह जल्द ही 'राज्य स्वास्थ्य पंजी' के माध्यम से अपने सभी नागरिकों के स्वास्थ्य डेटाबेस को बनाए रखने के लिए एक परियोजना शुरू करेगी- कर्नाटक
• एशियाई विकास बैंक (एडीबी) ने महाराष्ट्र में 450 किलोमीटर के राज्य राजमार्गों और प्रमुख जिला सड़कों को बेहतर बनाने के लिये जितने करोड़ डॉलर के ऋण को मंजूरी दे दी है-17.7 करोड़ डॉलर
• एसएंडपी (S&P) ग्लोबल रेटिंग्स ने वित्तीय वर्ष 2021 में जिस देश की जीडीपी विकास दर 5 प्रतिशत तक घटने का अनुमान लगाया है- भारत
• भारतीय ओलंपिक संघ (आईओए) के जिस अध्यक्ष को ओलंपिक चैनल आयोग का सदस्य नियुक्त किया गया है- नरिंदर बत्रा
We are sorry that this post was not useful for you!
Let us improve this post!
Tell us how we can improve this post?