Daily Current Affairs (15 – May – 2020)
Welcome to the May 2020 Daily Current Affairs MCQ One Liner Section of PuzzlesHuB. Current Affairs Quiz will Boost Your GA Section. Daily One Liner Current Affairs About national and international news are provided here. Read these one liner for quick revision for those who are preparing for IBPS/SBI/Po/Clerk and other competative exams.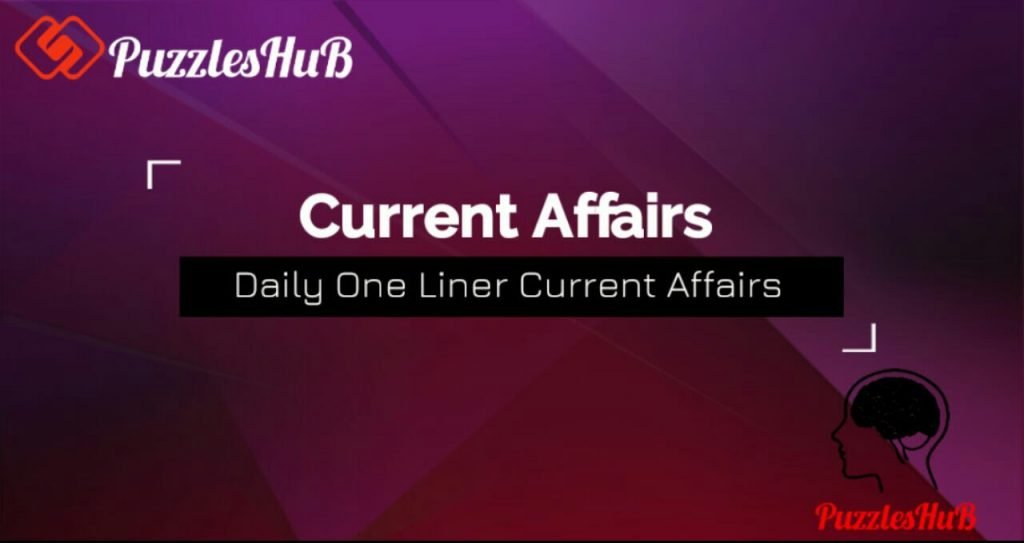 Daily CA One Liners , 15 May 2020 :
68.2% of under-5 deaths in India due to child, maternal malnutrition; UP topped: Global Burden of Disease Study 2000–17
PM Modi announces Rs 20 lakh cr special economic package and Lockdown 4.0
Registration Committee recommends banning the use of TB drug on crops
4 new products from three states received Geographical Indication (GI) tag
ICMR, NCDC to initiate a population-based serosurvey in selected districts to monitor coronavirus prevalence
A new initiative by the Railways and postal department for delivery and pick up
In a 1st, PoK's Gilgit-Baltistan & Muzaffarabad included in the meteorological forecast list of IMD
India ranks 74th, Sweden tops: WEF's global Energy Transition index 2020
BRICS' New Development Bank provides USD 1 billion loan to India to fight COVID-19
CDC of the United States promises 3.6 million USD to India to combat COVID-19
World Airport Awards 2020: Bengaluru's Kempegowda honoured as the best regional airport in India & Central Asia; Singapore Changi crowned as World's Best
Manoj Ahuja appointed as new CBSE chief and ASI gets V Vidyavati as Director-General
Akhil Kumar re-inducted into NADA disciplinary panel
MSME Ministry launches CHAMPIONS Portal
TVS Group, IIT-M develop automated respiratory assist device "Sundaram Ventago"
Astronomers of the University of Canterbury discovered a new one in a million Super-Earth
South African & US scientists use MeerKAT telescope to solve the mystery of 'X galaxies'
Former National TT champion Manmeet Singh Walia passed away at 58
Grammy winning-singer Betty Wright passes away at 66
Uttarakhand CM launches 'HOPE' a portal to help unemployed youths
Madhya Pradesh CM Shivraj Singh Chouhan re-launched Sambal Yojana for Dalits tribals and poor
'United We Fight' musical creation released by ICCR to Fight COVID-19
77 new mandis from 10 States & UTs integrated with the e-NAM platform for marketing of Agricultural produce
• प्रधानमंत्री नरेंद्र मोदी ने 12 मई 2020 को रात आठ बजे देश के नाम अपने संबोधन में कोरोना वायरस के कारण उपजे आर्थिक हालात को सुधारने हेतु देश के लिए जितने लाख करोड़ रुपए की घोषणा की है-20 लाख करोड़ रुपए
• केंद्रीय स्वास्थय मंत्री डॉ. हर्षवर्धन के अनुसार, देश में कोविड-19 जांच क्षमता बढकर जितने लाख परीक्षण प्रति दिन हुई- एक लाख
• हाल ही में जिस देश ने रवींद्रनाथ टैगोर की 159वीं वर्षगांठ के उपलक्ष्य में तेल अवीव की सड़क का नाम बदलकर 'टैगोर स्ट्रीट' किया- इजरायल
• मनमीत सिंह वालिया का 58 साल की उम्र में निधन हो गया. वे जिस खेल से संबंधित थे- टेबल टेनिस
• हाल ही में नवीन एवं नवीकरणीय ऊर्जा मंत्रालय (एमएनआरई) में सचिव पद का कार्यभार जिसने संभाला- इंदु शेखर चतुर्वेदी
• भारत सरकार की प्रमुख सामाजिक सुरक्षा योजना 'अटल पेंशन योजना' ने हाल ही में जितने साल पूरे कर लिये हैं- पाँच साल
• COVID-19 के कारण देश भर में लागू किये गए लॉकडाउन के मद्देनज़र गांधी शांति पुरस्का र 2020 के लिये नामांकन प्राप्त करने की अंतिम तिथि जितने तारीख तक बढ़ा दी गई है-15 जून 2020
• वह राज्य सरकार जिसने लोगों के श्वसन स्वास्थ्य के बारे में जागरूकता पैदा करने के लिए हाल ही में "प्राणवायु कार्यक्रम" शुरू किया- कर्नाटक
• वह हवाई अड्डा जिसने भारत और मध्य एशिया के सर्वश्रेष्ठ क्षेत्रीय हवाई अड्डे का खिताब जीता- बेंगलुरु हवाई अड्डा
• वंदे भारत अभियान का दूसरा चरण 16 मई से जिस तारीख तक चलेगा-22 मई
We are sorry that this post was not useful for you!
Let us improve this post!
Tell us how we can improve this post?