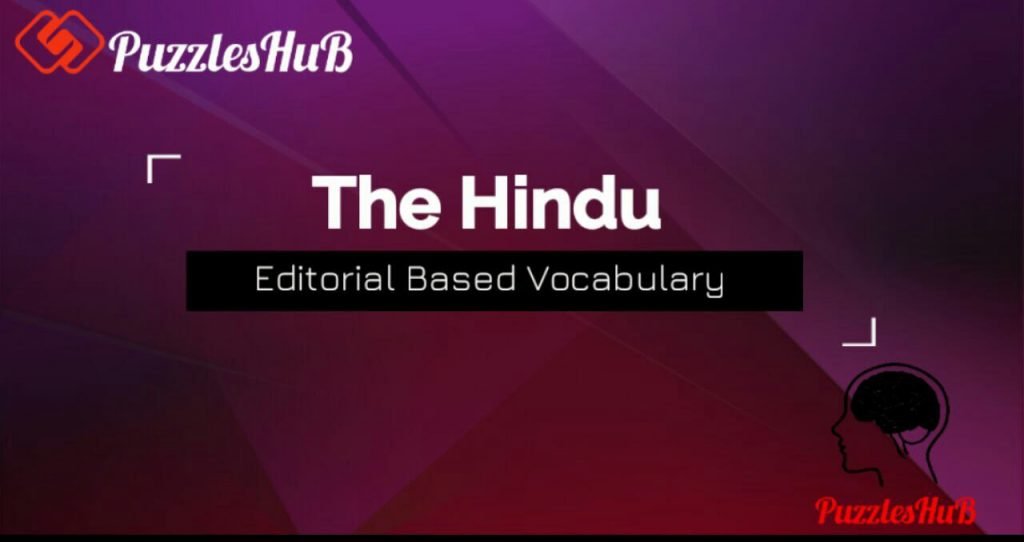 Here You Will Get Important The Hindu Vocab Lists For Exams Like IBPS PO, Clerk, IBPS RRB, CGL, CHSL, State Level tests, Other Exams and so forth. PuzzlesHuB provides you 10 new vocab words daily From The Hindu Editorial on the daily regular schedule which will profit you in the upcoming assessments. The Hindu Editorial vocab list is a booster and important part of learning and understanding the English language. It will sure improve your reading skills and marks in exams like SSC / Bank Po / Bank Clerk / SBI JA / SBI PO other Competitive Exams. We collect daily top 10 vocabulary words used regularly from the hindu newspaper.
? The Hindu Editorial Vocabulary 11 May 2020 ?
ATTEST (VERB): (संपुष्टि करना): certify
Synonyms: corroborate, confirm
Antonyms: disprove
Example Sentence: The witnesses must attest and sign the will in the testator's presence.
VOLATILE(ADJECTIVE)(परिवर्तनशील): tense
Synonyms: strained, fraught
Antonyms: stable
Example Sentence: The political situation was becoming more volatile.
DEMARCATION (NOUN): (सीमांकन): separation
Synonyms: distinction, differentiation
Antonyms: indefiniteness
Example Sentence: The demarcation of the maritime border was essential.
EXPEDITE (VERB): (शीघ्रता करना): speed up
Synonyms: accelerate, hurry
Antonyms: delay
Example Sentence: He promised to expedite economic reforms.
DEMOLITION (NOUN): (विध्वंस): destruction
Synonyms: knocking down, flattening
Antonyms: construction
Example Sentence: The monument was saved from demolition.
FATALITY(NOUN): (मृत्यु): death
Synonyms: casualty, mortality
Antonyms: birth
Example Sentence: Pedestrian fatalities seldom occur in built-up areas.
ADAPTATION (NOUN):(अनुकूलन): converting
Synonyms: conversion, alteration
Antonyms: incongruity
Example Sentence: The adaptation of a teaching strategy is needed.
HAZARDOUS(ADJECTIVE): (खतरनाक): dangerous
Synonyms: risky, unsafe
Antonyms: safe
Example Sentence: We have to work in hazardous conditions.
PROLONG (VERB): (बढ़ाना): lengthen
Synonyms: extend, draw out
Antonyms: shorten
Example Sentence: I don't want to prolong the discussion.
RETAIN (NOUN): (रखे रहना): keep
Synonyms: hold on to, hold fast to
Antonyms: give up
Example Sentence: Labour retained the seat.
We are sorry that this post was not useful for you!
Let us improve this post!
Tell us how we can improve this post?