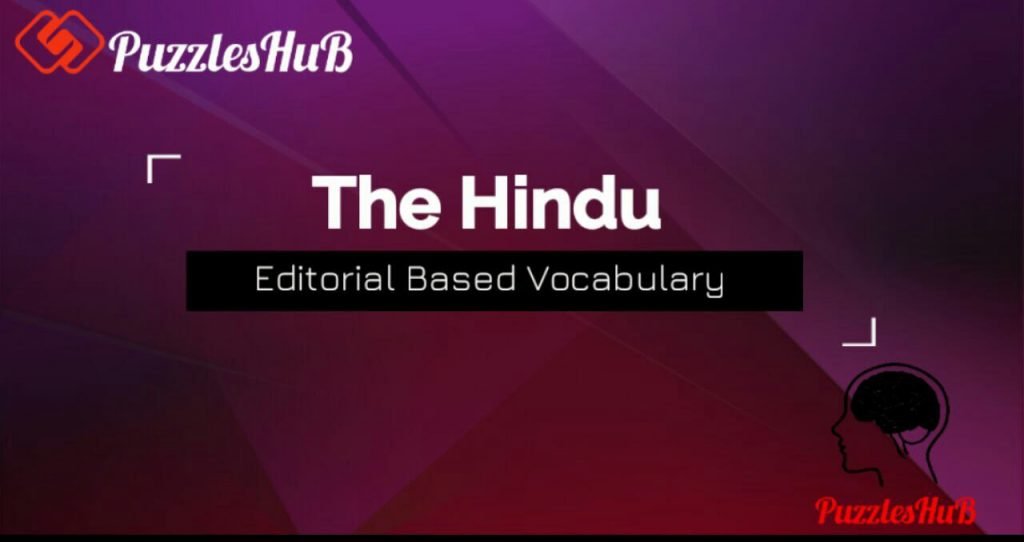 Here You Will Get Important The Hindu Vocab Lists For Exams Like IBPS PO, Clerk, IBPS RRB, CGL, CHSL, State Level tests, Other Exams and so forth. PuzzlesHuB provides you 10 new vocab words daily From The Hindu Editorial on the daily regular schedule which will profit you in the upcoming assessments. The Hindu Editorial vocab list is a booster and important part of learning and understanding the English language. It will sure improve your reading skills and marks in exams like SSC / Bank Po / Bank Clerk / SBI JA / SBI PO other Competitive Exams. We collect daily top 10 vocabulary words used regularly from the hindu newspaper.
? The Hindu Editorial Vocabulary 15 May 2020 ?
TRANSITIONAL (ADJECTIVE)
: (माध्यमिक): intermediate
Synonyms: middle, midway
Antonyms: initial
Example Sentence:
A transitional government had been appointed.
EXPATRIATE (ADJECTIVE): (प्रवासी): emigrant
Synonyms: non-native, displaced
Antonyms: native
Example Sentence:
Expatriate workers were returning to their cities.
DIRECTIVE (NOUN): (निदेशात्मक): instruction
Synonyms: direction, command
Antonyms: lawlessness
Example Sentence:
A new EC directive has been forwarded for approval.
OUTLAW (VERB): (गैरकानूनी घोषित करना): ban
Synonyms: bar prohibit
Antonyms: permit
Example Sentence:
Secondary picketing has finally been outlawed.
DISASTROUS (ADJECTIVE): (उत्पातक): catastrophic
Synonyms: calamitous, cataclysmic
Antonyms: fortunate
Example Sentence:
A disastrous fire swept through the museum.
ISOLATION (NOUN): (एकांत):
separation
Synonyms: segregation, quarantine
Antonyms: contact
Example Sentence:
Isolation from family and friends may also contribute to anxiety.
RIGOROUS (ADJECTIVE): (सख्त): strict
Synonyms: severe, stern
Antonyms: lax
Example Sentence:
Rigorous controls on mergers are needed.
SPARK (VERB): (बढ़ावा देना):
give rise to
Synonyms: cause, set in motion
Antonyms: bring to an end
Example Sentence:
The trial sparked a furious row.
MANDATORY (ADJECTIVE): (अनिवार्य): obligatory
Synonyms: compulsory, binding
Antonyms: optional
Example Sentence:
Wearing helmets was made mandatory for pedal cyclists.
STEEP (ADJECTIVE): (बहुत ढालवाँ): precipitous
Synonyms: sheer, abrupt
Antonyms: gentle
Example Sentence:
She pushed the bike up the steep hill.
We are sorry that this post was not useful for you!
Let us improve this post!
Tell us how we can improve this post?