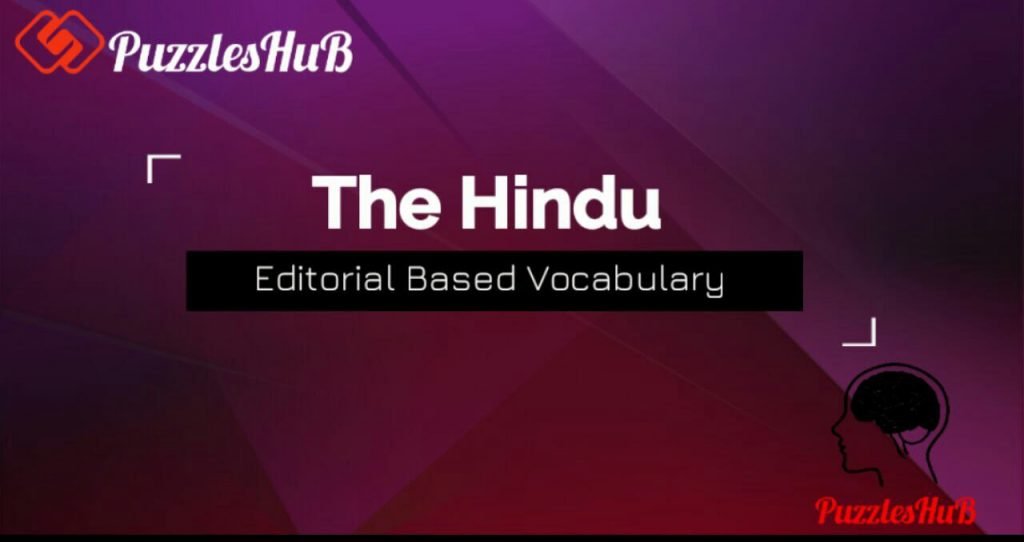 Here You Will Get Important The Hindu Vocab Lists For Exams Like IBPS PO, Clerk, IBPS RRB, CGL, CHSL, State Level tests, Other Exams and so forth. PuzzlesHuB provides you 10 new vocab words daily From The Hindu Editorial on the daily regular schedule which will profit you in the upcoming assessments. The Hindu Editorial vocab list is a booster and important part of learning and understanding the English language. It will sure improve your reading skills and marks in exams like SSC / Bank Po / Bank Clerk / SBI JA / SBI PO other Competitive Exams. We collect daily top 10 vocabulary words used regularly from the hindu newspaper.
? The Hindu Editorial Vocabulary 09 March 2020 ?
1. COERCE (VERB): (विवश करना): to force a person into doing something
Synonyms: compel, press
Antonyms: help, aid
Example sentence:
She was never coerced by her husband into bringing money from her parents.

2. DETERIORATE (VERB): (बिगड़ जाना): get worse
Synonyms: decline, worsen
Antonyms: improve, get better
Example sentence:
The condition of her sister has deteriorated.
3. DEMURE (ADJECTIVE): (संकोची): shy
Synonyms: reserved, modest
Antonyms: forward, brash
Example sentence:
I was thinking that Deepti was demure by nature but I was wrong.
4. CHARY (ADJECTIVE): (सावधान): careful
Synonyms: cautious, watchful
Antonyms: careless, hasty
Example sentence:
She should be chary of the strangers.
5. DEVOUT (ADJECTIVE): (धर्मनिष्ठ): religious
Synonyms: pious, devoted
Antonyms: unbelieving, insincere
Example sentence:
No doubt, my mother is a devout lady.
6. PERSECUTE (VERB): (सताना) harass
Synonyms: torment, domineer
Antonyms: comfort, console
Example Sentence:
The major kept on persecuting the soldiers.
7. GIGANTIC (ADJECTIVE): (विशाल) huge
Synonyms: enormous, immense
Antonyms: small, slight
Example Sentence:
A gigantic lily grows at a height of 10 feet's.
8. SANGUINE (ADJECTIVE): (आशावादी) confident
Synonyms: hopeful, optimistic
Antonyms: pessimistic, depressed
Example Sentence:
Vishal is a sanguine person in every adverse situation.
9. TRECHAREOUS (ADJECTIVE): (विश्वासघाती) disloyal
Synonyms: faithless, unreliable
Antonyms: faithful, reliable
Example Sentence:
Advaik is a treacherous junk-dealer.
10. ENCROACH (VERB): (अधिक्रमण करना) violate
Synonyms: trespass, infringe
Antonyms: shun, abide
Example Sentence:
Rather than encroach on his privacy, she might have kept to her room.
We are sorry that this post was not useful for you!
Let us improve this post!
Tell us how we can improve this post?